STAIRCASE & INTERIOR
Stairs may be often considered necessary functional element of architecture. In our company we know that staircase may offer much more than that. A good staircase design creates atmosphere of the interior and furthermore a perfect staircase design definitely gives to the architecture a value of an extraordinary modern dwelling. .
Designing details is what we really like. A staircase may be understood as a detail of the entire building. A detail of much importance, because a staircase is an element of the house that connects all storeys, is used by everyone every day.
Team of our designers offers more than a custom staircase design. In order to make the whole interior concept fit together we offer consultance in the lighting system too. We prefer to play with natural light condition and get the most of the sunrays. Besides that we aim to enable the staircase to live another life that comes after the sunset. A sophisticated staircase design deserves to be lighted up and should expose its beauty to its users.
While working on various projects we are often forced to cope with limited space of a room. In such cases the concept of the room combines furniture and the staircase into one fully functional element. Alternating staircase or another type of space saving staircase serves as an element to store books for example.

INTERIOR DESIGN
Design of a staircase should reflect style and dimensions of the interior. Concept of the interior gives guidelines which the design of the staircase should come from.
In order to achieve a complete harmony in the interior we prefer to start the design process of the staircase simultaneously with the interior designer or the architect. This way the client benefits from a solution that is thought-through, all materials as well as all details simply match together.
We in Unique Staircases offer consultance not only in stairs design. Since we love architecture from all its aspects, our skills and experince in interior design and lighting solutions will complement your desired arrangement and style. Last but not least we offer custom furniture design. In our company we have got our own woodworking facilities. Custom furniture design is the best supplement to the custom staircase design.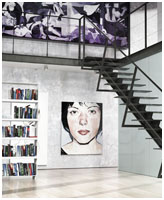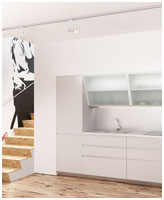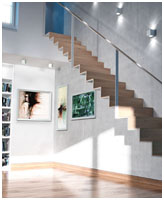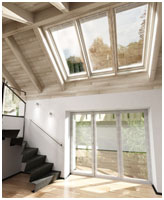 STAIRCASE LIGHTING SYSTEM
Whether is day or night it is preffered to equip stairs with one or multiple sources of light. In order to provide enough light onto a staircase there are plenty of solutions to choose from. Besides the practical effect of a lighting system, adding lights helps to demonstrate beauty and quality of the staircase.
Let´s leave aside ceiling light fixtures and suspension lamps and see what is available in customised staircase lighting systems. Stairs may be lighted up with variety of wall lamps, linear LED wall panels or LED panels mounted onto each step. Wall lamps are either wall mounted or recessed and may be also designed as spotlights with fixed or adjustable orientation of the light beam.
Our company cooperates with renowned Rendl Light Studio based in Prague and Malmö.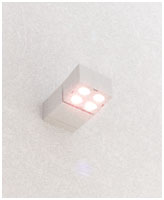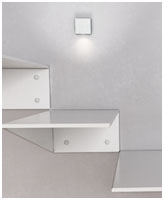 STAIRCASE STORAGE
In every house or maisonnette there are always some limitations that must be respected within the design process. Often we meet clients´ needs to have an extra storage room under the stairs. Adding the storage space to the staircase does not necessarily mean lower the aesthetic quality of the staircase. The only thing needed is a bright idea. With the idea you do not have to do compromises. We have come up with number of custom solutions that combine the storage space with the staircase. Countless number of ideas covers for instance a sitting furniture as a part of the stairs, pull-out trays, staircase bookshelves, a staircase wardrobe, a shoe cabinet etc.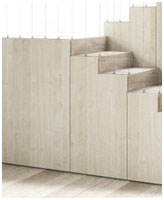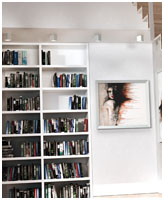 RAILING SYSTEM
We in Unique Staircases consider design of banisters and handrails as important as design of treads or a bearing structure. An excellent railing system ususally includes a sophisticated mounting solution, is distinguished by balanced proportions, and most importantly fits with the stairs.
No matter the material which the stairs and the railing is made of. The key aspect is a balance of both and the idea behind.
We have designed various banisters - wooden banisters, steel railings. We also offer glass banisters - frameless solutions as well as frame glass banisters.